INTEGRATED METHODOLOGY
Exakat comes with a ever-growing library for PHP coding best-practices that should be adopted by a development team. This know-how is usually spread over experts brains, blogs, books… and they tend to be forgotten. This is no more the case with Exakat. Exakat transform Expertise As A Code to create a Common Sustainable Knowledge Base for your development team
Overall health
Your project home page shows where you stand in terms of quality in one view. Our out-of-the box « Diplomat » Report raises a first agenda to achieve more cleaner and safer code.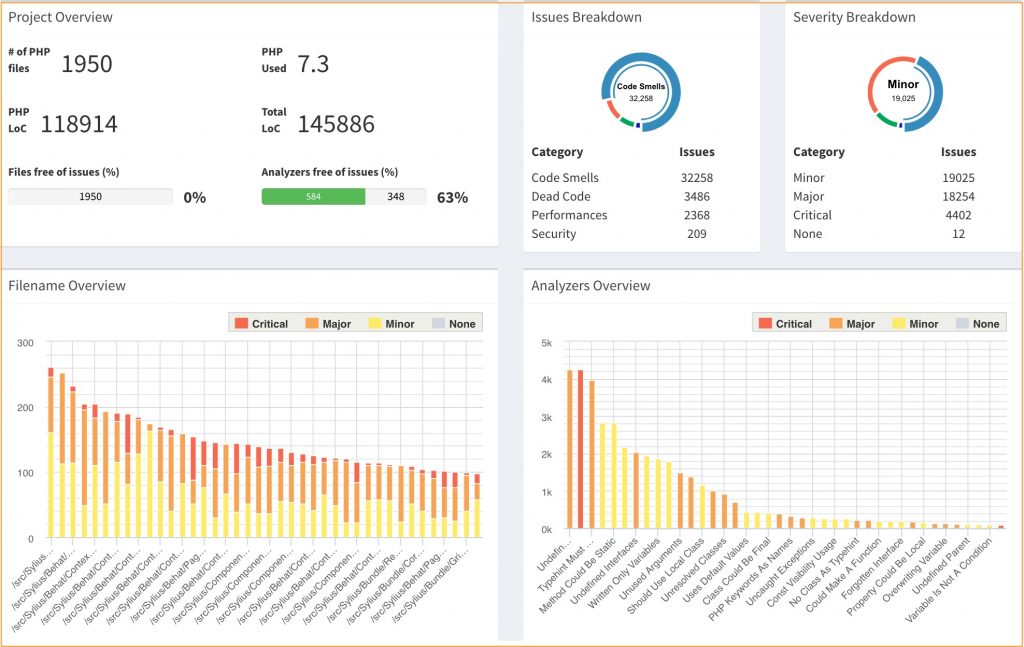 ---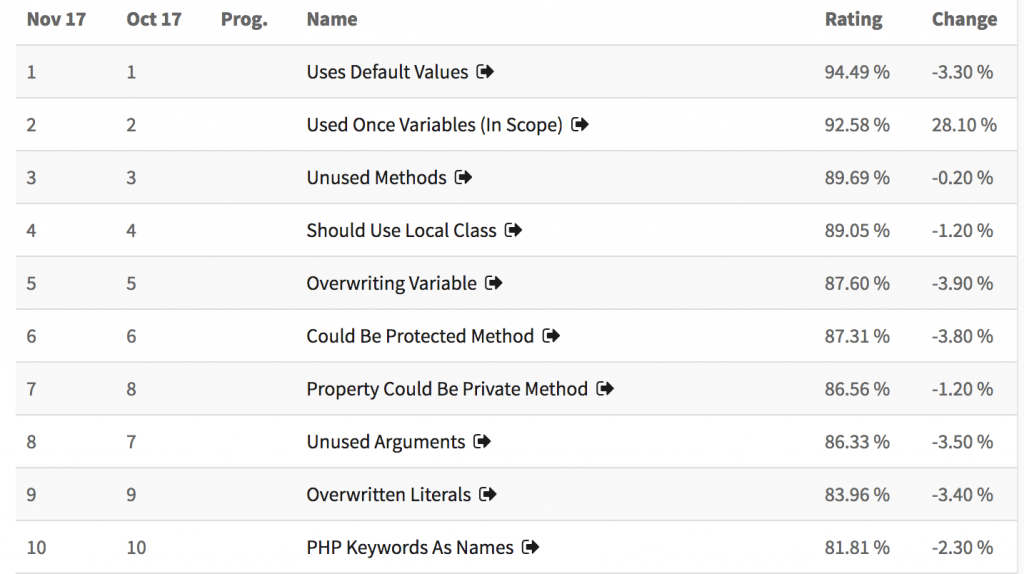 Compare your code to the crowd
Every analysis has a popularity feature that show your code is ranking compared to others. Certainly, that @ is not important, but since 53% are using it, will you reevaluate how important it is ? Check our PHP Quality Index
---
Auto-document your code
It is also hard to keep track with evolutions of code in the documentation. Exakat can keep track for you of list of PHP directives, the extensions and the best PHP binary for your code.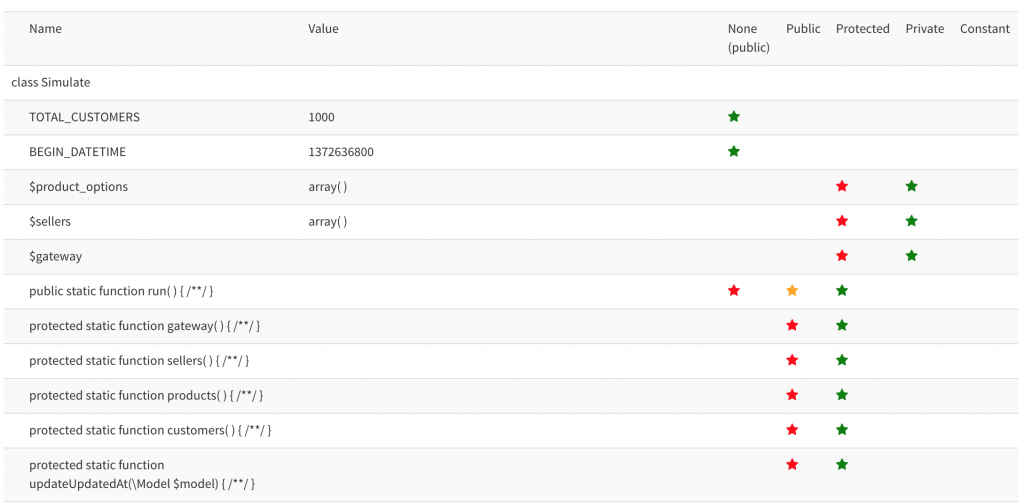 ---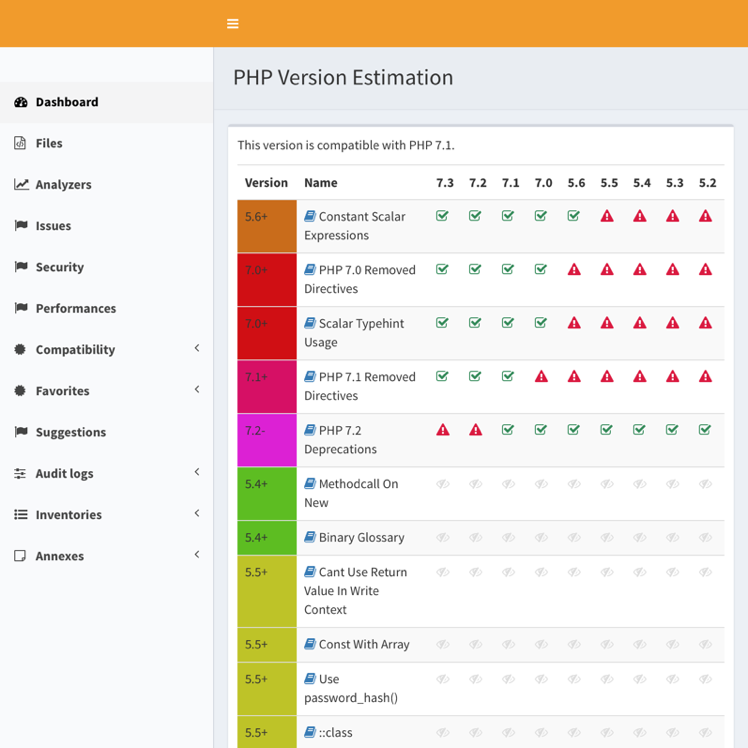 PHP Compliance
The big thing for your project will be to follow PHP7 compatiblity. Quickly identifying backwards compatibility is a key point to address your PHP7 journey. Using Exakat's PHP7 Version Compliance, you will spot in a smooth way all the line code to fix.
---
and more reports to strive the developper knowledge
To quickly overview your code, Exakat is provided with 30 reports which address : Quality, Coding Standards, Bugs fixing, Security, Performance and Documentation needs.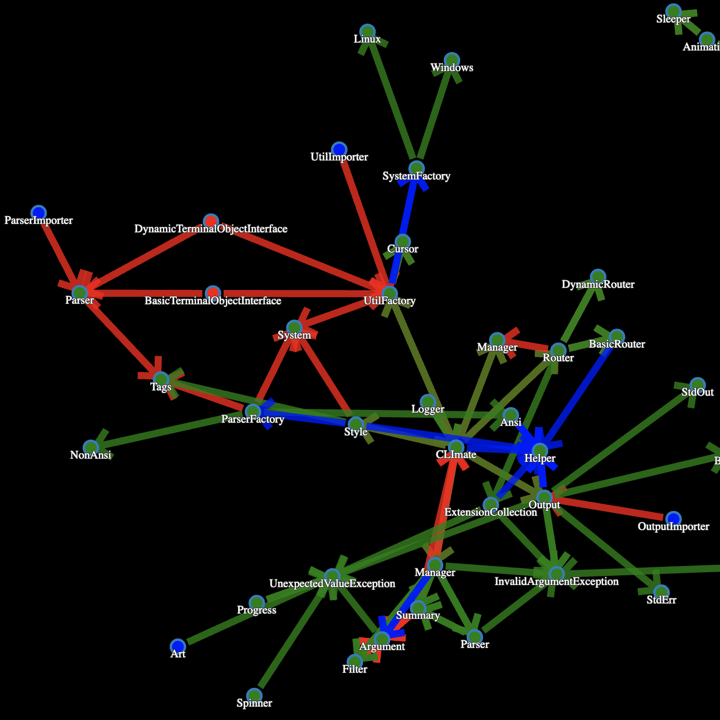 ---
WANTS TO KNOW MORE ABOUT EXAKAT
Choose the Way to Discover Exakat that Matches Your Needs
Community Edition
Ideal for learning about Exakat and do-it-yourself analyze of projects
Download Now!

Exakat Cloud
The same features as Community Edition for public or private projects that enables you to get started without installation
Try Now !